Screening Process - Non-Teaching
Screening
It is the process of reviewing Non-Teaching recruitment applications and involves scanning through the resumes and finding the closest applicant who matches the requirements mentioned in the advertisement for the specific post.
Roles
:—————————————————————————————————————————-: | | nonteaching_recruitment_admin | The Administrative Role for Non-Teaching Recruitments, who will map the screening committee members with assigned job postcode | | nonteaching_recruitment_screening | The role for Non-Teaching Recruitment Screening Committee Members |
Prerequisites to start Screening
The Screening can be done online for all Non-Teaching job postcodes by the Samarth Non-Teaching Recruitment Management module after assigning the role of non_teaching_recruitment_screening to the respective user accounts of the screening committee members.
After assigning the aforementioned role, the Recruitment Administrator has to click on Settings in the Non-Teaching Recruitment Management module. In setting the user has to click on the Screening Committee and create the screening committee by clicking on the Add Screening Committee button.
Once the job postcodes will get mapped with the committee members, the respective committee member will be able to view the Dashboard and the Job Postcodes that are assigned to them for the screening process.
Screening Committee Dashboard
The Screening Committee member will be able to view the following information in their dashboards:

Advertisement Number
Department Name
Post Name
Starting and Closing Date
Candidates Applied (Count)
Submitted (Submitted Application Count)
Total Amount (of received Fee)
Screening Process by Screening Committee Members
Screening members can view the list of candidates who have applied for the respective job postcode by clicking on the Department Name.

This list of Applicants will appear on the screen and the Admin will be able to view the following:
The Screening Committee Member has to select the View button to view the application in detail with the following information:
Form Number
Additional Uploads (if any)
Personal Details
Personal Details
Schooling Details
Under-Graduation Details
Post-Graduation Details
M.Phil. Details
``Ph.D. Details
Other Distinctions
Present Employment Details
``Relevant Experience
Research Papers / Review Articles / Conference Proceedings (In Related Areas Only)
Research Publications - Books, Chapters, Edited work, Articles, etc. (In Related Areas Only)
Research Projects
Miscellaneous Information
Languages Known
No Objection Certificate
Declaration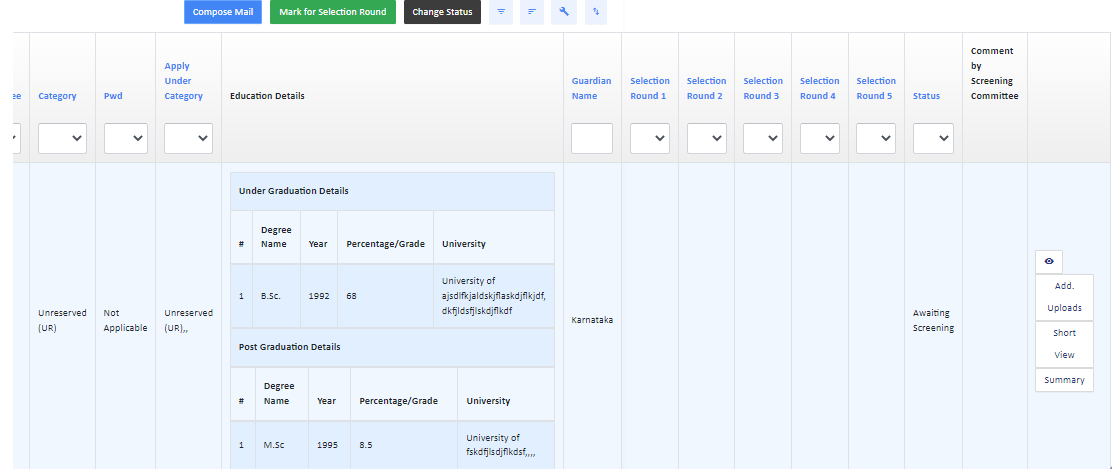 Screening members can perform the following actions by clicking on the Action button:-
Comment
Update Status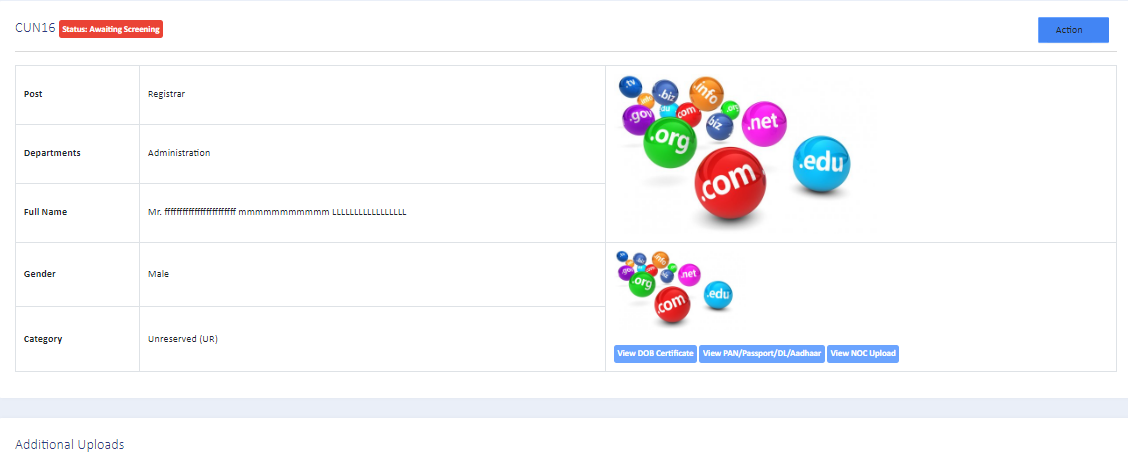 Comment- Screening Committee Members can update the comments for the respective application with help of the Comment. The Screening Committee Members can click on the Save button to save the comments.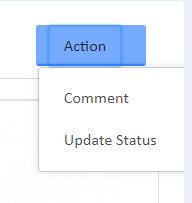 Update Status - When the Screening Committee Members click on the Update Status button, a form will appear on the screen where they need to enter the following information:

Enter Verification Code: Here, the Screening members enter the Numeric value of the Form number
Change Status: Screening Committee Members can change the status of their application via this option.
Remarks: Here the committee members can add remarks accordingly.
After entering the aforementioned details, the Committee Member has to save details and finish the screening process by clicking on the Save button.
📹 Module Training Video ⤤ | Post Recruitment, Screening